BOARD OF DIRECTORS: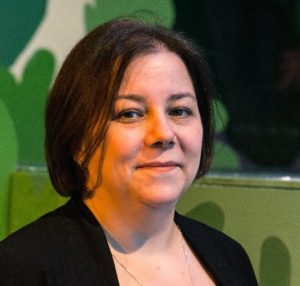 Samantha Gould Kriveshko, J.D. (a.k.a. Sam Gould) Founder/President/Treasurer Sam Gould Kriveshko, Esq. is a practicing Attorney with a BA from George Washington University in International Affairs and a JD from Suffolk University and President of Open Door Theater where she has been for 23 years. She is an expert on capacity building and meaningful accessibility design in her region. Sam is a nationally recognized speaker and expert on arts access, teaching workshops and panels at the Kennedy Center's Leaders and Exchange in Arts and Disabilities (LEAD) program, North Dakota Council on the Arts Convening, Massachusetts Cultural Council Universal Participation Initiative, Stage Source, Harvard University Graduate School, and others. She has been recognized widely, including winning A Lifetime Achievement Award from the Eastern Massachusetts Association of Community Theaters, the Mike Tobia Community Partnership Award for Inclusive Theater from the Federation of Children with Special Needs, A Community Leadership Award from the United Way and recognition for Open Door as the Most Accessible Cultural Institution in the Commonwealth from the Massachusetts Cultural Council. 
Christopher Robinson (a.k.a. Chris Robinson) Founder/Vice President/Clerk as Coordinator of Outreach & Training of Disability & Access Services for Boston University, and an ASL/English Interpreter and a Leader in the field of Disability Access and Equity. He has over 30 years of experience in access mentoring work as an ASL/English Interpreter nationally and as a national presenter in the content areas of inclusion-practices in the Performing Arts, and as an expert mentor for Interpreters, and Cross-Cultural Mediation within Deaf and hearing communities. He is a nationally recognized speaker and trainer for Disability Justice, Deaf Equity and Anti-Ableism Practices. He has served as the Coordinator for the Conference Interpreter Mentorship Program (CIMP), a collaborative project with the then Northeastern University Interpreter Education Project and Boston University Center for Interpreter Education (BUCIE), Co-lead training series for Gallaudet University Regional Interpreter Education Center (GUREIC) Interpreter Mentoring Project and served as Advisor Lead facilitator for the Community of Practice for ASL/English Interpreters for the College of St. Catherine's Graduation to Certification (GtC). He is also a nationally renowned performance ASL interpreter.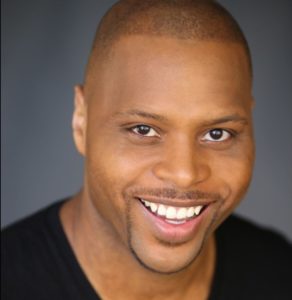 David Heard, Board Member, Actor/Audio Describer/Writer/Consultant as a black, gay, single, dad, access provider/actor in the gig economy, Dave brings this perspective to everything he does on stage and off. He has 20 years of experience in performing arts, in Boston, NY and beyond touring all over the world with Broadway's Hairspray and Dreamgirls. and can be seen as Rickey Minor in the recent Whitney Houston Biopic, "I Wanna Dance With Somebody". Dave graduated from Fordham University with a BA in English-Creative Writing, and while there, he studied at the Alvin Ailey School of Dance in New York City and has a masters in Education from Plymouth State University. He credits his toddler for making him a better actor, educator, author and all around human.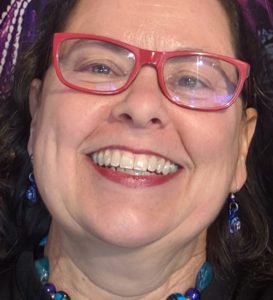 Cori Couture, Board Member, Audio Describer/Consultant has worked as an actor, singer, teacher, advocate, writer, editor, and computer consultant. She has written and narrated audio description (AD) for TV, film, and well over 100 live productions. Clients include American Repertory Theatre, Arts Emerson, AXIS Dance, Bridge Multimedia, The Commonwealth of MA, Shakespeare on the Common, Harvard Business School, The Huntington, Liars & Believers, Moonbox Productions, New Rep Theatre, Open Door Theatre, Perkins School for the Blind, SpeakEasy Stage, VSA of MA, and Wheelock Family Theatre. She has presented about AD through many organizations and podcasts. Cori strives to streamline processes for offering live theatre audio description. As an AD Coordinator, she has developed a list of local describers (for hiring), a list of organizations (for marketing and outreach), and customized AD contracts, how-to guides, checklists, and timelines. She also maintains a comprehensive calendar of audio-described live shows. Combining a Northwestern theatre degree and a Lesley Master of Education in Creative Arts in Learning, she created a one-woman show about how the arts buoyed her through the challenges of growing up with spina bifida (sb). She was on the SB Association of MA board for six years, helping to start a youth and adults group and editing their award-winning, quarterly newsletter. She also spent six years at the Dana-Farber Cancer Institute as a health communication writer/editor. She proudly identifies as a person with a disability and reminds us that people with disabilities lead all kinds of lives and can have any job.
Kristin Johnson, Board Member, Director of Artistic Sign Language/Deaf Consultant holds a Masters Degree from New York University in Deafness Rehabilitation. She is a Deaf consultant and avant-garde Director of Artistic Sign Language (DASL), and American Sign Language Coach, Kristin works with actors and interpreters in all mediums Kristin Co-Directed THE TASTE OF SUNRISE and has recently worked on FUN HOME, and many other Broadway shows including SIX, MOTOWN, MEAN GIRLS, FRANKENSTEIN, BILLY ELLIOT, KINKY BOOTS, A BEAUTIFUL NOISE and CHICAGO. She was  part of the experimental play, THE MYSTERIES OF LIFE: A QUEER NATURE WALK. Kristin works with theater companies such as Wheelock Family Theatre, Queen Mab, Boston Landmark Orchestra, Moonbox, Open Door Theater, American Repertory Theater, Emerson Colonial Theater and Huntington Theater to educate them in the art of Deaf and visual theater. While offstage she tackles social justice movements for access, diversity, equity, participation and rights. She also works as a tour guide of the Joseph Grigley exhibition at the Massachusetts Museum of Contemporary Art and teaches ASL and Workshops on Artistic Sign Language in both higher education and community settings nationally.  She is an alumni of UMass-Amherst, New York University, and Harvard University, and proudly hails from the Berkshires in Western Massachusetts. In 2017, she was awarded by The Commonwealth's Performance Recognition Program for Outstanding Performance Citations.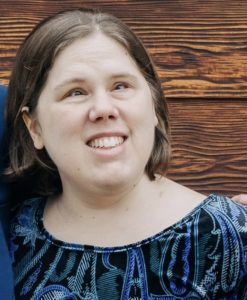 Amber Pearcy, Board Member, Blind Consultant/Braille Transcriber/Grant Writer has been a braille proofreader and transcriber for 10 years. In addition to her work providing braille materials to individuals of all ages, Amber is a Blind consultant  to arts organizations wishing to provide greater access for the blind/low vision visitors and audiences. She provides staff and volunteer training, for theaters, museums and non-profit organizations nationally, to promote greater awareness and sensitivity of people with disabilities, as well as advising on issues including audio description, tactile/touch tours, and digital accessibility. She holds a Master of Science in arts administration from Boston University, and she is certified in literary braille transcription and proofreading by the Library of Congress.