Before Incorporating Think Outside the Vox Inc in 2022, Vox was operating as the outreach arm under the umbrella of Open Door Theater. Here are some of the projects that we spearheaded through Open Door Theater
2022 CULTURALLY RESPONSIVE AUDIO DESCRIBER PROJECT
Culturally Responsive Audio Description Training. Photo of a captioned zoom screen with a diverse group of participants; artists, actors, and writers of varying age, racial and gender identities.
We ran the first of its kind BIPOC Audio Describer Training to increase the pool of Culturally Competent Audio Describers in MA. Currently, the large majority of providers in the field globally are white, and often lack the cultural competency to adequately describe the work of diverse playwrights. We recruited BIPOC, Blind and disabled expert trainers and BIPOC trainees from the black actor community, the Boston Black Writers Association and the Asian American Playwrights Association, and then we facilitated hiring and onboarding our trainees to local arts organizations to train and model new practices in audio description, including the use of a blind expert consultant on teams, revolutionizing and improving the quality of access in MA.
If you are interested in attending this training in the future apply here.
2023 ASK ME FAIR: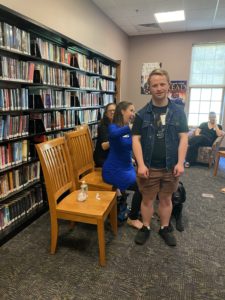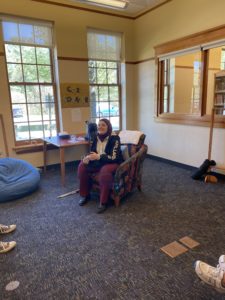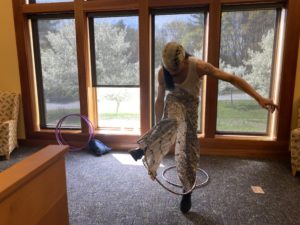 Photo of Kerry Thompson, a Deaf Blind Presenter demonstrating protactile on the back of a student with Down Syndrome
Photo of Dr. Minkara in chair and hijab with her guide cane on the floor in deep conversation
Photo of Chris Merritt, an Afro Indigenous, mixed race performer in loose clothing demonstrating Native American Hoop Dancing to his group
As an arm of Open Door Theater, our team joined forces with the Sargent Memorial Library and Danny's Place and created the ASK ME FAIR in response to racism, ableism and anti-semitism in schools.
We recruited intersectional speakers and held an ASK ME FAIR, where children and caregivers were invited to ask questions, listen to, and converse with diverse, intersectional presenters  from a wide range of backgrounds. They shared their life experiences in a safe space through intentional and respectful conversations to promote empathy and tolerance while dispelling stereotypes and fear of those who are different.
The purpose of this event is to provide a safe space for intentional and respectful conversations that will promote empathy, acceptance and tolerance while dispelling stereotypes and fear of those who are different. We hope that the unfamiliar can become known and understood through thoughtful questions and answers; and that people of different backgrounds and experiences can educate, learn from, and appreciate each other.
Guiding principles: 1. Like books, every individual has an interesting, important story to share and there is value in listening and dialogue. 2. Opinions can change. In addition to our presenters and access providers for ASL interpretation, AD/sighted guide, our volunteers were also diverse Deaf and disabled. Everyone had meaningful and honest  conversations. The event was so successful that we have been asked to repeat it and replicate it for adults.
Biographies of the Presenters can be found here.